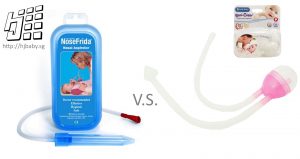 For the past week, Emma has been rejecting her milk just after one sip and it took lots of coaxing and crying on her part to even  finish half of what she used to take. The last straw came when she wailed in hunger inconsolably and we rushed down to the only PD that is willing to take in last minute patients close to their closing time.
From our description, the PD immediately diagnosed Emma with having a badly blocked nose. Consequently, she was unable to breath whenever she is drinking milk, leading to her crying and rejecting the milk altogether.
When we got home, we got our bulb-type nasal aspirator where you squeeze the large bulb to force air out and release to create a suction effect at the tip. That's useless. The suction is not sufficient to suck out the mucus from her nose.
In the end, we saw our friends recommending the NoseFrida Snotsucker so we went online to purchase it. I stumbled upon it on Lazada SG so I thought heck, why not search and see if there's a cheaper option. We saw the Lucky Baby Easi Clear which is also a mouth-powered version at only $6.90 compared to $22.90 for the NoseFrida! Curiosity got better of me. Instead of saving money, I ended up ordering both. I wanted to see which is better.
For the Lucky Baby Easi Clear, it is made up of two flexible tubes with one white (soft) tip (for the nose) at one end and a mouthpiece on the other end. The soft tip is very important as it gentle and doesn't jab your baby's nose. There is a larger round "junction" where the two tubes meet indirectly so that air pressure differences can be exchanged with lesser chance of the mucus passing over to the tube that you are sucking. Clever!
Usage wise, it is pretty effective for sucking out all the mucus from Emma's nose. As I shared, the soft tip is really important and Emma was not too traumatised when I placed the white tip on her nostril. The tubes were a bit short but that's fine because a long tube would make sucking more difficult! The only thing I don't like is that the soft tip is too small for me to grip properly when trying to position it on her nostril.
Pros: Cheap, effective, soft tip allows gentle "anchoring" to the nostril
Cons: Plain looking, not so flexible tubes, small tip offers insufficient grip
The NoseFrida is quite expensive at S$22.90 for such a simple looking thing but many people swear by it.
Basically you suck on the red coloured mouthpiece and aim the tip of the blue test-tube looking thing at your baby's nostril. I found this device much simpler than the Lucky Baby one yet it is so much more expensive!
It does the job as effectively but the lack of the isolation junction made it necessary for a disposable sponge filter to be installed at the end of the blue tube. I'm not a fan of having to buy parts for an already expensive device in the first place. The good thing about the NoseFrida is the large blue tube allows excellent grip when you need to aim on the nostril of a struggling baby. The bad thing is of course that, while the tip has no sharp edges, it can be uncomfortable for the little one to have this shoved on his/her nostril when struggling.
Pros: Good Grip, Good mouthpiece
Cons: Expensive, tip is not soft, have to replace sponge filter eventually
Conclusion! Buy both. You need two anyway. I pop one in the diaper bag and one at home. It is important to have two because you'll find yourself needing this urgently at some point. Don't be afraid to grab a couple of the Lucky Baby Easi Clear though. It's so cheap!
Buy here: