Week 18 Day 6.
Trimester 2 have been great so far, other than the aches and pains from the growing belly, the nausea has disappeared. it is the time where most mummies find their energy back to do the baby shopping. we went to hongkong/china recently for a short trip and i wasnt thankful at all for all the stairs we had to climb at the MTR stations. it was crowded and human traffic was bad. i couldnt take my time and had to rush up or down the stairs. it ended up with super bad back aches at the end of the day. my feet were also dying and i couldnt feel them anymore after the trip.
the thing about being pregnant and sitting an airplane…… the economy seats were too uncomfortable. we took scoot. our flight were past midnite there, and when we came back it was early morning. so i wanted to snooze badly but the design of the seat didnt allow me to snooze much, soon my tailbone was aching and there wasnt space to stretch my legs. oh well, i guess if we had to go for another trip, i would opt to upgrade to the biz class seats on scoot! haha…  oh yes and the air in the airplane was so dry, i felt my nose going to drop off any moment.
but overall, it was a good trip, we managed to get some goodies for our babygirl. we bought pyjamas and socks, about 11 items for SGD$37. it is not bad right?
we heard about the takashimaya baby fair happening now, and we heard good things about it. that the deals were worth going for and we decided to take the plunge to brave the crowds to check out the big ticket items for baby girl. we saw the bonbebe cot on the flyer, it was going at $399 with free organizer (like a mini shelf to put diapers/towels etc), a night light and 5 piece bedding. my bff got the same cot at $399 without the freebies. so we made our way down yesterday. seeing that it was a saturday, surprisingly it was not that bad a crowd. there wasnt a need to queue at cashiers, there was space to walk, in fact alot of parents were pushing their strollers around. it was all about personal space and giving way. so it was one of the best baby fairs i been to.
we purchased the bonbebe alexa cot and arranged delivery next week! so excited.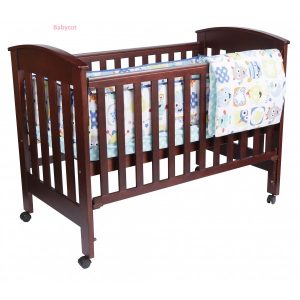 this cot is a 4 in 1 which means it can be converted to a toddler bed, a day bed and even a kids bed in future. the wheels also will be useful when we have to push the cot to our spare bed room in the event my mom wants to take care. overall i would say it is a good buy!
we intended to only buy the baby cot, but when we saw the offer for sterilizer at the pigeon booth, going at $168 for loads of things, we had to take a second glance. in the end we also bought it. it comes with a food warmer, washing liquid, washing brush, 2 small milk bottles, 2 big milk bottles, 1 limited edition horse glass bottle, etc etc etc.
comparing to the Avent one, this sterilizer is more spacious, it can accomodate about 8-9 bottles as the "trays" are adjustable. in future we can also put in baby bowls cos of the round design of it. it is also a rapid steamer which means just 6 mins and ure done! the separate food warmer is also useful when we have to heat up milk bottles for night feeds. there is also an attachment to warm up baby porridge in future if need be.
other than all these, we also purchased small frivolous items like onsies, socks, pacifier, detergent. we also bought a breastmilk cooler bag! it is endorsed with the Fridge to Go and it was going at 49% off. why not! haha.
phew. ok so we checked off some items off the checklist, i guess we are just about done with the big ticket items. we got robinsons voucher and we will check out the car seats there.
having a baby is expensive. so girls and boys, before you get pregnant, think carefully!
on a separate note, baby movements have increased. mostly at night. baby toh has a habit to jump and roll around when papa is playing music. she loves listening to music, so when papa toh plays twinkle twinkle little star on the piano app in his tablet, baby toh will dance to it. too cute. and i cant explain how or why but it just feels so amazing to feel her kicking in me. some days (usually day time) when i dont feel anything, i get slightly worried. but now i figured she is most active in the night. and also because the kicks are not so obvious yet, i tend to miss alot of her movements when im moving around in the day.
baby toh, mama and papa didnt plan for you so soon, but we are struggling to get everything ready before you arrive. all you need to do is grow and be healthy. love you much. cant wait to see you in the FA scan next saturday.