I got my first Fitbit Flex (Gen 1) in 2014 and used it for almost 2 years until April 2016 when I decided to upgrade for a few reasons
I got really sick of changing the bands. Each band, even the original ones, lasted me an average of 3 months before cracking and splitting.
I wanted that Heart-rate monitor feature badly
So fast forward to April 2016, I threw the still-functioning Fitbit Flex aside and got myself a Fitbit Charge HR (Gen 1). I love the heart rate detection feature as it allows me to track my heart rate when I have my rare jogs or when I feel unwell.
In July 2016, barely 3 months after the purchase, my Fitbit Charge HR started peeling at the bangs and the band got bloated. A few days later, it became non-responsive and cannot be powered on again. Dead.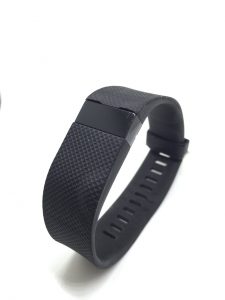 I contacted Fitbit Support and sent them this photo as per their request (Nice right? I just bought a lightbox back then and happened to be in the mood of taking photos in the light box)
There was much back and forth between Support and me and I got pretty frustrated because they were asking me one question per email and each email took several days to get a response from them.
Finally, they agreed to ship a replacement to me – all the way from the U.S. Luckily, it didn't take too long (a week+) for me to get the replacement. It took an entire month (till August) before I could close the matter with them.
Fast forward to December 2016. Despite extra care taken by me (and almost zero instance of exercising with the band -_-), the bangs started peeling again and the bloating happened too. I discovered that the skin of the band was glued onto an inner band and adhesion doesn't last more than a couple of months with daily removal of the band (it's stupidly not waterproof enough to even wear into the shower).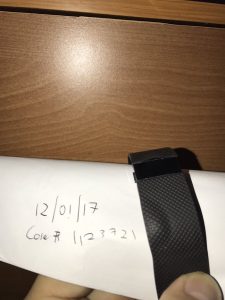 I raised a ticket with them in January 2017 and this time round, they wanted me to take a photo of the band with a piece of paper with handwritten date and a case number that they have just issued to me.
As you can see from the image, the bloating is quite bad on this one. I requested for them to issue me a store credit so that I can order a different (more expensive) model that may not fail on me so often. No matter how I explained about the frustration that I had to go through due to the product flaw, they refused to obliged. They insisted to send me a replacement Fitibt Charge HR again. I'm obviously less than pleased.
I am now looking around for a new fitness / wellness band. I do hope I can find a band that looks decent and can do more than just telling me about my heart rate. Maybe one day, I can measure my blood pressure without using my clunky Omron machine. Just maybe.
Anyway, good bye Fitbit. Thanks but no thanks.
Comments
comments