to be honest, we do not have a preference, i guess we are just excited to know if its a girl or boy, and whether it was either, we will still love very much simply because its our baby.
over the last week, my family, friends and colleagues have been making guesses on the gender. mom guessed it was boy because i was eating alot of meat. my colleagues mostly guessed it was a boy because they said i didnt look pregnant from behind (actually i dun tink i look very pregnant from in front either), my cousins guessed it was a girl….. just because.
this visit to dr siow was also exciting for us cos the last visit was 1 month ago! it didnt help that i started to feel pain below my belly area, especially at night. ill wake up with this pulling pain and then shortly after it subsides. of course i was worried that something was wrong. so i googled and so far all the responses was that due to the stretching of ligaments, sometimes when im in the wrong position, it will pull and tug and that will cause temporary pain.
brought this up to dr siow today and he said it was the round ligament pulling. and that it is ok to feel the pain as long as it is not a constant sharp pain. phew…
also got him to write a memo for our HK trip next week! just in case… i also got him to write a short note that i was taking calcium powder. well… bringing white powder into the airport isnt exactly normal right. hahaa…
he managed to scan baby facing down today. lying on the arm. the spine bone was so distinct, arms and legs were swinging all over the place. baby was very active and dr siow had problems trying to get a good heartbeat shot. he tried to measure and then baby moves and he has to re-measure.. he said.. aiya.. baby keep moving! hehehee.. i feel so happy to hear that baby is so active. that explains all the fluttering in my tummy the past week. baby has been having a private disco party in there! and… baby grew double the size from last visit! amazing!
and he also managed to scan between the legs and it was so clear. there was no sign of a kukubird! he is 80% sure that it is a girl. hee. but we will only be sure in 3 weeks when we go for the FA scan.
but of course, being excited first time parents, we couldnt help it. we went to get some nice proper clothes for our baby girl. but i think we went abit overboard. dont ask me what will happen if we fall into the 20% chance that it is a boy. argh.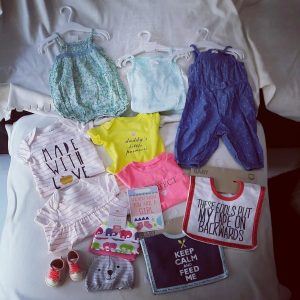 (outfits from H&M, Cotton On Kids and Carters)
Girl outfits are too cute to resist! heee…
i am very blessed that so far i havent had any major problems in this pregnancy. we are about 40% along now and this can only get better. keep growing my darling. papa and mama cant wait to have you in our arms.
we are slowly preparing for your arrival so just continue being healthy and we will see you next March.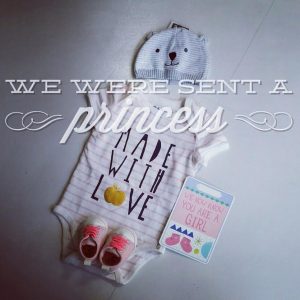 Comments
comments