Social media has allowed us to know of more deaths around us than ever before. So much so that we start to think if the death rate of human beings has increased. Have you ever wondered what happens to your Facebook account after you die? Facebook's policy on this may change over time but as of now, there are a few possible scenarios:
No one has access to your account and no one put up a memoralisation request to Facebook
This is the least ideal situation. Your account sits in limbo. Acquaintances who don't know of your passing might still post Happy Birthday wishes to your timeline yearly making your family and friends cringe and face palm every single time.
You die and your significant other/ family member has access to your password / access to an open session of your Facebook
This is really not the best way to maintain your account after you're gone. It's very freaky to have new posts coming from a deceased person. The correct way is to get your Facebook profile memoralised.
You die and your significant other / family member knows how to contact Facebook to memoralise your account 
This is good but without a legacy contact, Facebook has no one to hand over (limited) control of your Facebook profile.
You die and your nominated legacy contact helps to memoralise and manage your Facebook account
If you do not want to disappear from Facebook upon passing, this is the best way to handle things. Your legacy contact will get limited access to manage your Facebook profile. Read on to find out more about legacy contacts.
You die and Facebook deactivates your profile once they are notified of your death.
You have final say on whether you want your Facebook account to be around after your passing. Once you have made this decision, no one else (even your legacy contact) can override this decision. The only exception is if someone has your login credentials and goes in to turn off this setting before Facebook gets notified of your death. For this to work, someone must report your death to Facebook. Otherwise, your account remains active. Having a legacy contact whom you have briefed to inform Facebook about your passing as soon as possible will greatly hasten the process to execute your wish to deactivate your profile once you are no longer around.
Legacy Contact
Facebook introduced a feature that allows you to nominate a legacy contact who will manage your Facebook profile when you're gone. This person will not be able to logon to your account. read your private message, compose new posts or initiate friend requests but can do the following:
Change your profile and cover photos
Pin a post to your timeline that can include a final message from you, provide information for the wake/funeral/memorial service, etc (Your setting must allow people to post to your timeline for this to work!)
Accept friend requests. Initiating friend requests to others from your profile is not possible for obvious reasons.
Request deactivation of your Facebook profile
How to nominate a Facebook legacy contact?
Go to your Facebook settings by clicking on the down arrow on the top right corner of your Facebook page and choose Settings (The way to get there may change over time as Facebook updates their user interface)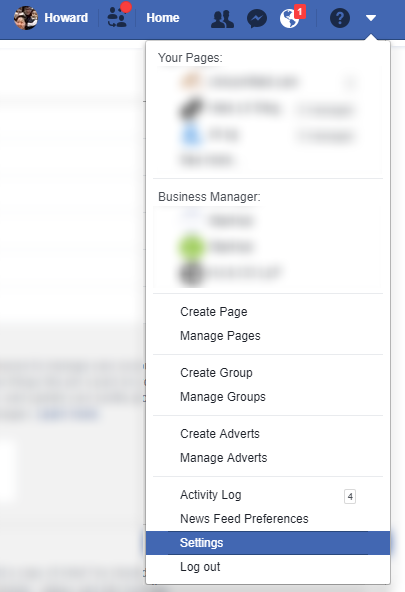 From there, choose Manage Account and you will see the full settings. You can optionally allow your legacy contact to download a copy of your Facebook data and/or request to deactivate your account when you die instead of memoralising it.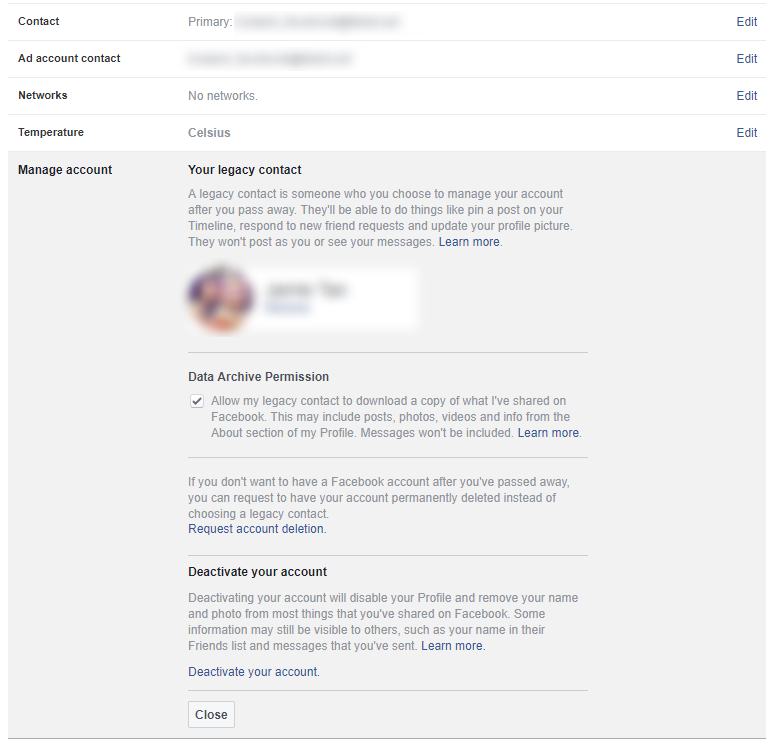 How to memoralise the profile of someone who passed away?
Click here to fill up the form: Facebook Memoralisation Request Form