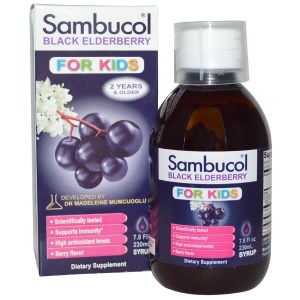 The kids keep falling sick because Emma is now in full day childcare where she gets exposed to other children who are sick in the centre. Instead of whining about parents allowing their kids to childcare sick (which is partially understandable because our work culture doesn't allow working adults sufficient flexibility to juggle a job and stay home to look after a sick child), we decided to purchase the Sambucol Black Elderberry Syrup from iHerb.
Since many parents swore by this product's effectiveness in reducing sick days in children, we thought of giving it a shot. There are many local retailers or marketplaces selling Sambucol products such as Lazada but since this product has a expiry date, I decided to get it from iHerb since they move their products really fast and I've trusted them as our kids' supplier of probiotics and multivitamins.
Best of all, 4 bottles of this qualifies you for 5% discount, free shipping to Singapore, 5% rebate as store credits and the price is the cheapest I've found so far!
Description of Sambucol Black Elderberry Syrup from iHerb
Dietary Supplement
For Kids
Gluten Free
2 Years & Older
Developed by Dr Madeleine Mumcuoglu
Scientifically Tested
Support Immunity
High Antioxidants Levels
Dietary Supplement
Supports Immune System
Virologist Developed
Great Tasting Syrup
100% Drug Free
BDP Kosher
Saumbucol, the original Black Elderberry extract, provides strong immune system support to help you and your family stay healthy throughout the year. Sambucol Black Elderberry extract conveniently arms you with some of the best protection natural has to offer.
Developed by a world renowned virologist, Sambucol is the unique black elderberry extract that has been used in scientific studies. By using a proprietary method of extraction, only Sambucol can guarantee consistent, immune supporting properties in every serving.
Trusted by millions worldwide, Sambucol can be taken every day for continuous immune system support.
Kosher: Supervised by the Chief Rabbinate of Beth Din De Paris.
Suggested Use
Use daily for maximum benefit
For Daily Maintenance:
2-3 years: Take 1 (5 mL) teaspoon daily.
4-12 years: Take 2 (10 mL) teaspoons daily.
For Intensive use:
2-3 years: Take 1 (5 mL) teaspoon four times daily.
4-12 years: Take 2 (10 mL) teaspoons four times daily.
Other Ingredients
Glucose syrup, purified water, citric acid, potassium sorbate (to retard spoilage)
Free from gluten, dairy, soy, wheat, nuts, artificial color and flavors.
Quality. Safety. Reliability. The PharmaCare name guarantees that this product is produced using the highest manufacturing standards, and PharmaCare stands behind every bottle of Sambucol that your purchase. Satisfaction Guaranteed.
Warnings
Not suitable for children under 2 years
Sealed for your protection. Do not use if seal is broken or missing.
To preserve quality and freshness, keep tightly sealed and keep in a cool, dry place. Keep out of the reach of children.
Comments
comments